There are as many theories on gear as there are hikers. I've gone ultralight recently (gear lists here), but I didn't do most of my AT miles that way. There are a few key pieces of gear that will run you some money, but there are many, many things out there that you don't need. Better yet, if you have a little talent and ingenuity, you can make some things yourself. I'd suggest borrowing gear from a friend, to start. That way, you can decide what you like or don't like about their gear and go from there. I mean, you can try out sleeping bags and pads in an outfitter, but that won't really tell you much.
Obviously, there are a lot of gear review sites. The problem with the large, magazine funded sites is that they are trying to get you to spend a lot of money that you don't need to spend. Make no mistake -- I spent a lot of money on gear. As a result, I can outfit several non-backpacking friends for overnighters, and I'm glad of this. I also learned a lot through trial and error. If I'd set out to buy the *right* gear, I would have paid a total of $600 for 3 key items: an ultralight one person tent, a good sleeping bag and an ultralight backpack. None of the other items need cost that kind of money, and you can get off cheap on everything but the sleeping bag, really.
First, you need a house...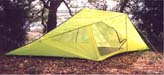 Wanderlust Gear Nomad Lite - Since I usually hike alone, this is the tent I use most of the time. It pitches with hiking poles and requires 2 stakes. The vestibule needs something to anchor it, but that doesn't have to be a stake because you don't need to pitch the vestible for stability. The whole kit and caboodle weighs 24 ounces, which I think is pretty good. This is a single wall tent and it does get some condensation in typical Eastern US conditions. The only way to avoid that is to use a tarp instead. I'd probably come up with a tarp rig if I hadn't already bought this tent. If I were going to buy the tent again, I'd have bought a lighter color (mine is purple, and I wish it were that yellow shown on the site).
REI Slip Tent - This is the tent of choice when Tino and I camp together. It's a reasonable weight to split between two people (5 lbs or so). I've also taken it with an ultralight tarp instead of the rainfly and slept in it by myself. It was *huge* for that purpose, but it was kind of nice to have all that room. I did have to use that rainfly, which was unfortunate because the whole ceiling is net and allows nice star viewing. REI no longer manufactures this tent, but it's like this one without the pole around the foot area. Walrus used to make one like it also, but they don't either. It's a very good design, and I have no idea why they don't make it any more.
REI Sololight - I've loaned this tent out a lot to people hiking with me. It's long enough for my guy-friends over 6' tall, but I can't even sit up in it. It's a hoop style tent, and it's not big enough to make up for it's weight. Well, in my mind anyway. It appears that REI doesn't manufacture this one any more either. They make a 2-person that is except for width is identical. It was meant to compete with the Sierra Designs Clip Flashlight...and it didn't.
REI Half Dome - We use this for car camping on occasion. It's barely wide enough for two rectangular bags though, so it's not good for two wide shouldered people like us. Also, I you can't see much out of it. It is very tall in there though -- I can almost stand up, as I recall. We got it for practically nothing, and it's good to have a loaner, as I said above. The design has been radically changed. The tent has condensation/ventilation problems, and it looks to me like the design changes were put in to combat that.
Then, you need a bed.

Nunatak Back Country Blanket - I've received the bag, but I haven't slept outdoors in it yet. I used it as a quilt in a hostel, but the room was no colder than 50'. It was hot like the sun at that temperature, so I think I'll be fine with it down to 30'. We shall see, as it refuses to get warm here. I'm not hiking this weekend (It's March 29 right now) and probably not the next, but after that, I have a longer trip in Central Virginia or SNP planned. I haven't decided which yet.
It has also occurred to me that if I want to hike in the depth of winter, I could combine this and the Design Salt bag and be snug as a bug in a rug. I don't do that much though. If I did, it might be worth it to buy a very light Western Mountaineering bag.
TNF Superlight - These are down mummy bags that weigh 3'2" with their stuff sacks. The are supposedly 0 degree bags, but I'd rate them more like 25 degrees. This is the bag I've used more than any other. I much prefer down -- it's unparalleled for packability, and you can keep it dry if you try. A trash bag will do the trick, really, so it's not a big challenge. If I tarped a lot, maybe I'd be more concerned, but I don't really do that. The real problem is that they are mummy bags and the zipper doesn't go all the way to the foot. I have a really hard time sleeping in a mummy bag because I like to sleep on my stomach with my legs apart. Hopefully, the blanket system will solve my problem. This bag is a few years old and has been redesigned. Maybe it's temperature rating is more honest now.
Kelty - We have two rectangular synthetic fill Kelty bags. I can't remember what they are called. They are cheap, 40 degree bags that are my choice for car camping in the summer. These will not get you below 40 degrees though, I can tell you that. They do not pack small, which is one of my main problems with synthetic fill bags, and they weigh 4' each.
Design Salt Blanket/Bag - This is a fleece bag with a nylon shell. It is rectangular and relatively narrow. It's rated at 55', and that is *all* it gets you. I have been cold in this bag quite often, and swapped it out for my warmer bag, on a very long AT section hike in July, if that tells you anything.

A sleeping pad is a must, and experience has told me that I need a full length pad and that I don't like air mattresses, even the self-inflating Thermarests that are so popular. I've used a Ridge Rest a lot, and I've recently purchased a plain Jane Coleman closed cell pad that is even lighter and is actually bigger. I'll try it out in the near future and see if it does the job.
And...you'll need something in which to carry them.

GoLite Breeze - This is my main pack. It's what is called a 'frameless rucksack' and it weighs 12 ounces, and I can fit enough stuff for a 5 days in here, at least. One does not want more than 20 lbs. in this pack since it has no hip belt or sternum strap and no suspension system. It's no problem for me, but I know that some people can't imagine why anyone would want a pack like this. It forces your load size down, which I think is good, and it's very comfy to not feel so much like a pack animal.
Jansport Minimalist - This a nice, lightweight pack; a top loader with a few specialized pockets. I shopped hard for this and I've used it for quite a bit of mileage. I compared it to a Dana and a Gregory of the same size, and I wound up with this one. Price was no object either -- I was going for a utility/weight comparison. I may have to use this pack for the 100-mile wilderness, because I'm not sure I can get enough food into the Breeze. The new sleeping bag may help with that, but I don't know. I've read about some modifications that can be made to make this pack lighter (it weighs just under 36 ounces now), and I'll look into that. I think it would max out at 35 lbs carry weight. Jansport packs are generally considered bomb proof.
REI Evening Star - I shopped hard for this one too. It's a completely different style of pack than the other two. This one has a sleeping bag compartment and is a panel loader. It's a fairly traditional pack and it carries very comfortably up to 45 lbs. The pack itself, however, weighs 72 ounces, which is ludicrously heavy. I just didn't know any better at the time, and pack materials have changed a great deal since I bought it 4-5 years ago.
Nameless Czech Pack - This is a top loading fairly traditional pack. I've loaned it out, and it performs well. It weighs less than the evening star but more than the minimalist. It holds quite a bit, and it carries very well.
REI Wonderland - This has always been Tino's main pack, and I can't remember what it's called. There's a lot to be said for external frame packs. They can be modified extensively, they are very durable, you can carry huge loads with them, dangling things off at will. I think this pack, as sold, weighs about 6 lbs. They also keep your back less sweaty, which is also kind of nice. I find that they carry awkwardly for rock scrambles and creek fords, and there are a lot of those around here.
Walking Accouterments

What you wear on your feet is, of course, important. Those shoes over there are Merrell Eagle Lows. I'm totally converted to them. I found that once I let go of about 10 excess pounds of pack weight, I stopped having sissy girly ankles. It wasn't me, it was the weight. I was completely amazed. These weigh a pound less than my old Raichle boots, which is some serious weight to ditch. The Raichles still get used for yard work, and they are incredibly comfortable.
Again, I suspect that losing weight off my body didn't hurt either, but there are all sorts of things I like about these shoes. Merrells have a wide toe box, even on the women's last. I've found this to be unusual, and I'm thrilled with it. Birkenstocks are ugly because they are feet shaped, but they are comfortable because they are feet shaped. The most important thing in a hiking shoe or boot is comfort, and I don't know about you, but my toes are wider than my heel. Based on my experience with women's shoes, sporting or otherwise, you'd think everyone else is different.
I have not gotten a blister in these shoes and I did not break them in. The insole is removable, so I can put my Birko-floor in there for the massive amount of arch support that I need (I have heel spurs caused by plantar fascitis). The instep allows for this arch support which prevents further damage to my plantar fascia. I forded streams in these and walked in springtime muck. No problems. The boots shed dirt (except for the soles, but they have great traction, so I forgive them) and look unusued. Oh, and I only paid $40 for mine from overstock.com. You can't beat that with a stick.

The only complaint about switching to a shoe? The necessity for gaiters. I used to hate them, but I've managed to get attached to them in the winter, so hopefully, I won't find them uncomfortably hot this summer. I use a Black Diamond Shortee gaiter from 1997. They are now called a "Sportee", but they look the same. They are old and they still do their job. I altered them by cutting off the under-shoe part and the buckle. I didn't need it because they still stay in place. I will not be replacing them any time soon, because if it ain't broke? Don't fix it.
I did try to make silinylon gaiters to save myself 2 ounces. The fabric won't hold a heavy duty snap. As a result, I've developed a pattern for them and I know how to make them, but I've now been using the old ones happily, so I've abandoned that idea for now.
You might like to pretend you have four legs. Poles are quite popular -- I know I depend on mine. I don't really have recommendations for poles. I can tell you that I use Leki Makalu poles with shock-absorbers. I've gotten used to the shock absorbers, so I'd always want them if I have to replace these (though they are very sturdy and I don't see that I'll have to do that any time soon). If you got used to rigid poles, you'd probably like them fine. My exact poles aren't manufactured, but at 1lb 4oz they are a significant investment in weight. I think they more than make up for it, and you really don't feel like you're carrying anything, once you adapt to their use. I also need them to pitch my tent, so they pass the 2 use test.
Other Gear
You'll need cooking gear, rain protection and a first aid kit, and I can talk obsessively about these things as well. Maybe later.
Links about Ultralight theory:
Ray Jardine
The Ultralight Backpacker
An Ultralight How-To
Michael Connick's Ultralight Page
John O's Ultralight Page
Ultralight Joe
Adventure Alan
Appalachian Trail | AT Journal | AT Resources